A video of a hippo roaming around on a high school's premises in Tzaneen in Limpopo has gone viral.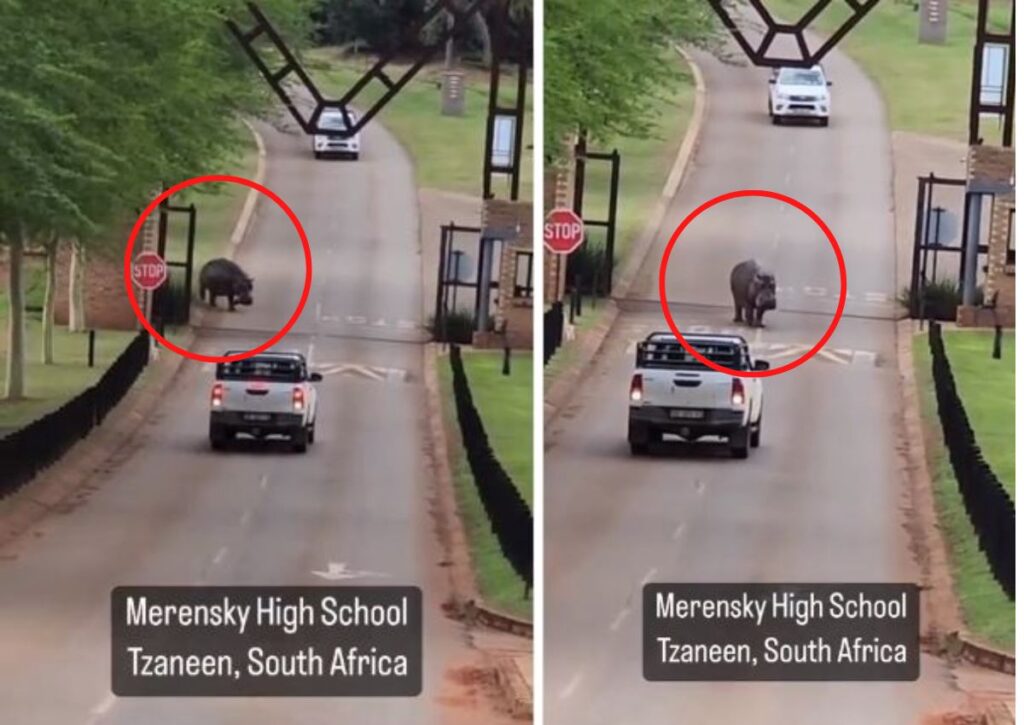 By: Corné van Zyl
WATCH AS THE HIPPO NONCHALANTLY STROLLS BY
The video was taken at Merensky High School.
In the video, two vehicles stop as the hippo nonchalantly strolls by.
THE SCHOOL IS NEAR A RIVER
According to sources, this is a regular occurrence as the school is near a river. Merensky High School is a dual medium school situated in Tzaneen, Limpopo.
ALSO READ: BREAKING NEWS: Another tiger on the loose in Johannesburg [WATCH]
WATCH THE VIDEO OF THE HIPPO HERE:
This is the year of animals. On Monday, another TIGER escaped and was spotted walking around Edenvale Johannesburg. It is not yet confirmed whether the tiger was sedated and captured.
THIS IS THE YEAR OF ANIMALS GONE WILD
ALSO READ: WATCH: Man recalls the HORRIFIC moment the tiger attacked and mauled him
The Edenvale SPCA said on Tuesday the tiger has NOT been found yet, and inspectors are still searching for the nine-month-old tiger.
ALSO READ: SPCA: Escaped tiger NOT yet found, sedated or captured
Last month Sheba the tiger escaped from her enclosure in Midvaal on Saturday, 14 January. The tiger attacked 37-year-old William Mokoena and killed his dog and a pig at the weekend.
The eight-year-old exotic pet of Midvaal resident Rassie Erasmus was euthanised when the tigress was caught in a massive search hunt.
Meanwhile, guests at the umVangati House in the Blyde River Canyon near the Kruger National Park didn't know to expect a 'wild' visitor as they sat down for breakfast one morning.
While the guests tried to remain as calm as possible, a cheetah walked in and explored the safari lodge.
HERE IS HOW TO CONTACT US:
You can send us your news tips, photos, or videos via WhatsApp at 060 011 0211. Please remember to include your name, surname, and as much details and information as possible. You are, of course, welcome to send anonymous tips and information.