Visitors at the Kruger National Park recently captured the moment when an enormous crocodile attacked and ate a smaller crocodile at the Sunset Dam.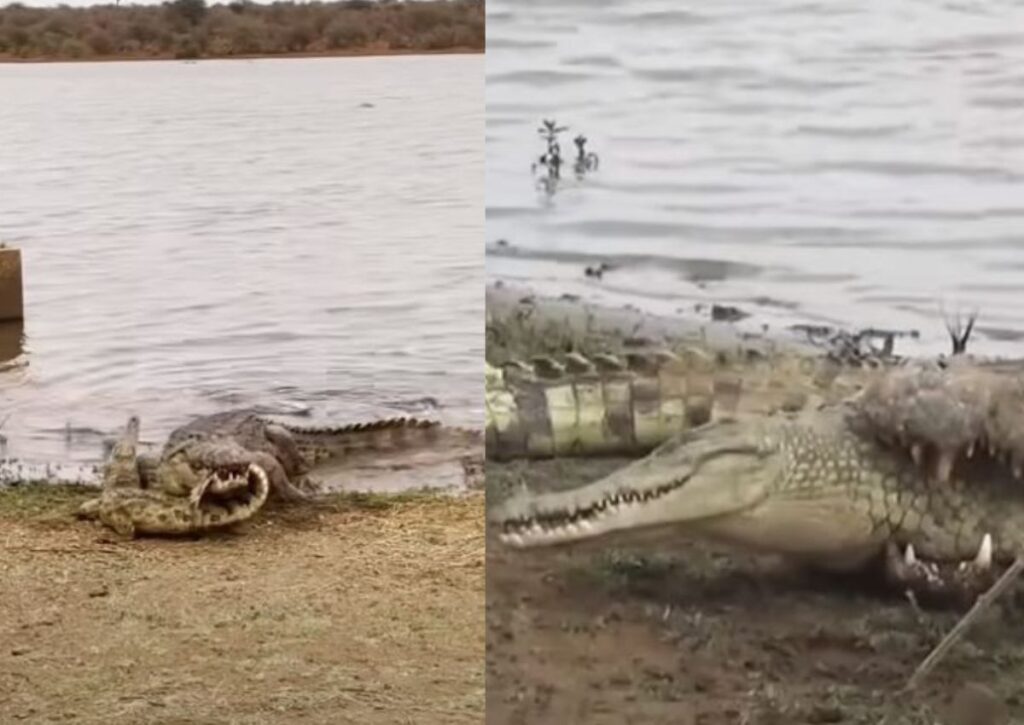 By: Corné van Zyl
WATCH AS THE LARGE CROCODILE STALKED THE SMALLER ONE
According to a report by LatestSightings.com, the footage was captured by Marce Jacobs and Stephen Kangisser.
ALSO READ: Monster 2.7m-long Black MAMBA captured in KZN [SEE]
They were parked in the open area overlooking the Sunset Dam.
THE FOOTAGE WAS CAPTURED AT THE SUNSET DAM
ALSO READ: WATCH: Hippo roams around school premises in Limpopo

"A large crocodile caught our attention, making its way toward the bank closest to us and slowly approaching a smaller crocodile.

"The smaller crocodile tried to react, but it was too little, too late. The larger crocodile lunged at the smaller one, clamping its powerful jaws around its head."

Marce Jacobs and Stephen Kangisser
ALSO READ: WATCH: Couple double booked with PYTHON in Kruger National Park
THE LARGE CROCODILE BEGAN EATING THE SMALLER ONE
They furthermore told the publication that the larger crocodile carried the smaller crocodile in its jaws and began eating it, tearing chunks of flesh from its body.
This continued until the entire small crocodile was devoured.
ALSO READ: LOOK: Man gets SNAKE surprise in shower in Kruger National Park
WATCH THE VIDEO HERE:
ALSO READ: WATCH: Was this trophy hunter attacked and eaten by LION?
This comes days after a couple got the surprise of their life when they looked up and saw a python on the beam of their bedroom roof in the Kruger National Park.
THE COUPLE STAYED AT SATARA
They were double booked with the python.
ALSO READ: SPCA: Escaped tiger NOT yet found, sedated or captured
Mica Bafatakis recently shared their experience on the SANParks Facebook group:
THE PYTHON WAS IN THE ROOF WHILE THEY SLEPT THERE THE PREVIOUS NIGHT
"My boyfriend and I were staying at Satara, and we went to have a lie down in the afternoon.

"When water fell from the ceiling on my boyfriend's leg- we reported a water leak to the reception and went for a beer. When we came back, I wanted to double-check the roof as I had a suspicion of a snake.

"When I looked up it was a python in our roof- we slept with it the previous night."

Mica Bafatakis
Click here to watch the video.
ALSO READ: WATCH: Man recalls the HORRIFIC moment the tiger attacked and mauled him
Last month, a man recently got the surprise of his life when a SNAKE popped its head out the drain while showering in the Kruger National Park (KNP).
A SNAKE SURPRISED A MAN IN THE SHOWER RECENTLY
Lawrence Bowen recently shared his experience on social media.
"My visitor who joined me while showering in Letaba. A Mozambican Spitting Cobra… Stuff of nightmares! Make sure the drain cover is firmly secured."

Lawrence Bowen