Umhlanga is a popular spot along KwaZulu-Natal's Dolphin coast, and there's loads to do on weekends! Here's our suggestions…
Dolphin and Whale Tours
Why you should experience it: From May to September each year, southern right whales migrate along the KwaZulu-Natal coast. Humpbacks also arrive around this time and stay until late November. These humpbacks can often be seen from the beaches in Umhlanga, along with pods of playful dolphins. There are also Whale and Dolphin tours that operate daily from Granny's Pool on Umhlanga Main Beach. Take a picnic basket and a blanket and spend the day soaking up the warm KZN sunshine whilst spotting these beautiful creatures.
Visit the Hawaan Forest
Why you should visit: The Hawaan Forest is the remnant of a dry coastal dune forest and dates back 18 000 years. Said to be the last of its kind, the forest is home to various plant species and wildlife, including bushbuck, African Rock Pythons, bushpigs, dwarf chameleons, birdlife and more. Walking trails are not open to the public in order to maintain the ecosystem, but guided Wildlife Society tours are available. Bookings are essential.
How much does it cost: R30 per person
How to get there: Located in Hawaan, it's an 18 km drive from central Durban via the M4
Walk the Umhlanga Lagoon Nature Reserve trail
Why you should experience it: The Umhlanga Lagoon Nature Reserve is a 26 hectare reserve situated on the shores of the Indian ocean in Umhlanga Rocks. A wooden bridge meanders along for 1.6km across the Ohlanga River, wetlands and a dune forest. Embark on the trail yourself, or opt for a tour guide to help point out the various wildlife and birdlife along the way. It's a great way to get some fresh air and sunshine, while experiencing nature at its finest.
How much does it cost: Entrance to the reserve is free.
How to get there: Find it in Hawaan, Blackburn – close to the Hawaan Forest.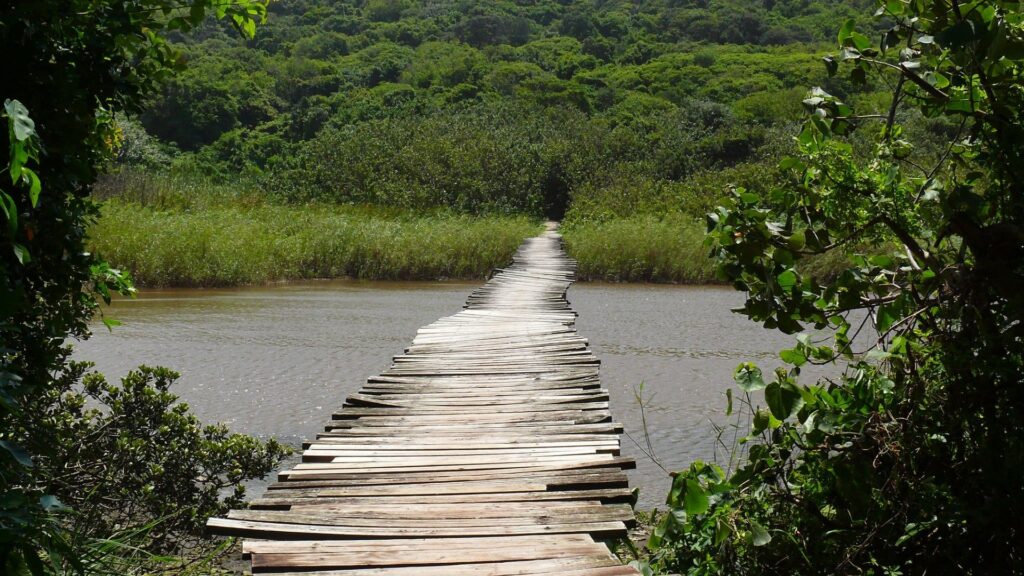 ALSO READ: Rain, rain go away: Five rainy day activities to do in Durban