Not one, not two, but three South African provinces should expect some snowfall this week. Here's where…
We've a had a generous output of snowfall this winter, and the white stuff isn't done with us yet: Another icy blast is coming to South Africa this week, and according to our latest snow forecast, up to three provinces AND Lesotho are on course for dusting.
SNOW FORECAST FOR SOUTH AFRICA: THERE'S MORE TO COME THIS MONTH!
As noted by the latest update from Ventusky, we're getting a flurry on Sunday 31 July. The last day of the month will bring modest amounts of snow to rural locations in the EASTERN CAPE, KZN, and FREE STATE. Furthermore, Lesotho is on track for a substantial covering.
Now, piecing together a snow forecast can be complicated, and sometimes volatile. Projections made at the start of a week don't always hold out as anticipated. But over the last few weeks, snowfall HAS arrived where it's been promised – and we're hoping for more of the same on Sunday.
SNOWFALL FORECAST: THREE PROVINCES PLUS LESOTHO ON COURSE FOR MORE CHILLY WEATHER
The first few flakes are projected to reach the higher ground of the Eastern Cape early on Sunday afternoon. Then, as day turns to night, parts of KZN and Free State will experience some wintery showers. However, only a handful of places will actually see the snow make landfall.
EASTERN CAPE: Areas close to Barkly East and north of Ugie are likely to see a sprinkling of snow, with up to 2cm projected.
KZN: Regions close to the border with Lesotho, and towns in the north-east (like Bergville), may receive between 1cm to 2cm of snowfall.
FREE STATE: In the extreme east of the province, a dusting nearing 2cm should fall just outside of Witsieshoek.
LESOTHO: As shown by the snow forecast, showers should reach the higher ground from Thursday. However, most of it will fall on Sunday night.
MAP: HERE'S WHERE THE FLAKES ARE SET TO FALL THIS WEEK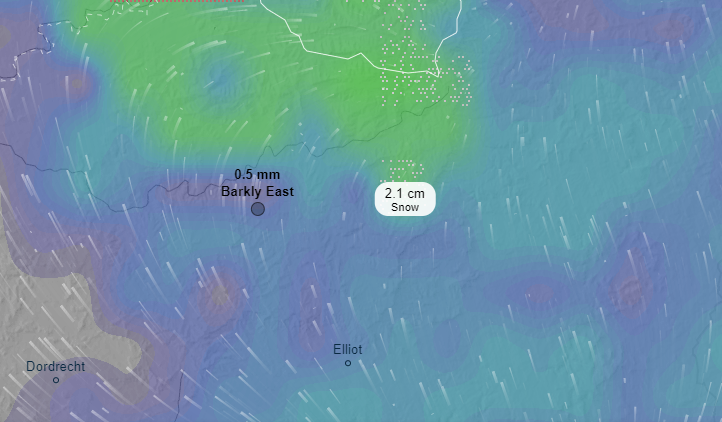 ALSO READ: Seven snowy locations to see snow in SA this winter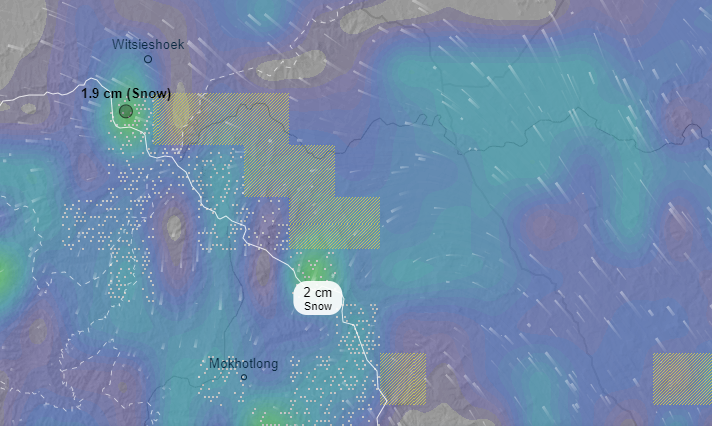 By: Tom Head