Calling all snow hunters – here is where you can see snow TODAY. The SAWS has issued warnings for disruptive snow in these parts of SA.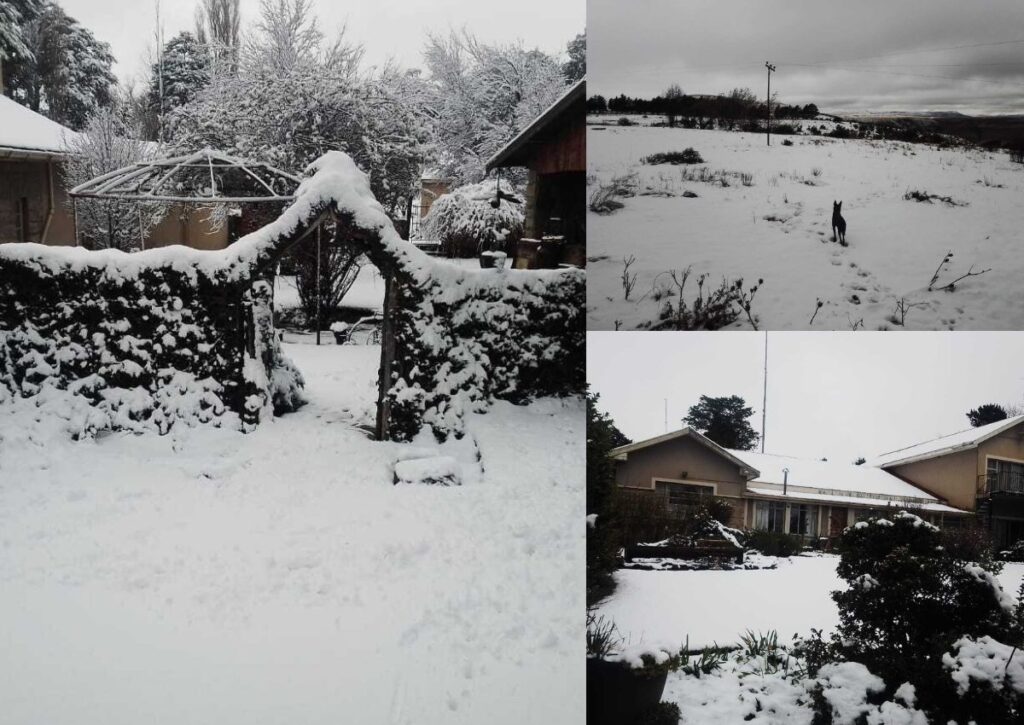 Calling all snow hunters! Here is where you will find SNOW in South Africa TODAY.
SNOW HUNTERS, HERE IS WHERE THERE YOU WILL FIND SNOW
The South Africa Weather Service (SAWS) issued an orange level 6 warning for possible disruptive snow in several parts of the country until Wednesday.
"Snow started to fall this morning (Saturday) over the high-lying areas of the Western and Northern Cape and is expected to spread to the high-lying areas of the Eastern Cape later today, where it could become disruptive in places.

"Furthermore, snow will spread to the southern Drakensberg tomorrow (Sunday) with light snowfall possible along the eastern Highveld and escarpment of Mpumalanga on Monday."

SAWS
THESE AREAS WILL BE AFFECTED
These areas will be affected:
Winterberg Mountain Range
Sneeuberg Mountain Range
South Drakenberg Mountain Range
Swartberg Mountain Range
Sutherland
Beaufort West
Graaff-Reinet
Nieu-Bethesda
Willowmore
Uniondale
Kokstad
Underberg
Harrismith
Barkly East
Molteno
Volksrust
Memel
Greytown
Bergville
Fort Beaufort
Komani
AfriSki
Lesotho
Ermelo
Belfast
LOOK AT THESE PHOTOS:
SEVERAL WARNINGS HAVE BEEN ISSUED FOR SEVERAL PARTS OF SA
It further advised that the combination of the very cold temperatures with possible snowfall poses a real risk for small stock farmers as well as any outdoor activities.
Here are all the warnings issued:
Strong winds are expected over the western and central interior of the country today, with damaging waves along the west, south and southeast coasts. Windy conditions are also expected over the eastern interior of the country on Sunday and Monday.
Orange Level 6 warning for disruptive snow that could result in major mountain passes being closed, isolated communities and loss of livestock is expected over Chris Hani district municipality, Senqu, Eundini, Matatiele, Umzimvubu, Raymond Mhlaba and Blue Crane Route, Dr Beyers Naude (Graaf Reinet area) local municipalities on Sunday and Monday.
Yellow Level 2 warning for disruptive snow leading to dangerous driving conditions, some pass closures and isolated loss of vulnerable livestock is expected over Dr Beyers Naude (excluding Graaf-Reinet area), Kou-Kamma, Amahlathi, Mhlontlo and Ntabankulu local municipalities on Sunday and Monday.
Yellow level 2 warning for disruptive snowfall is expected over the southwestern parts of KwaZulu-Natal and may lead to icy roads resulting in traffic disruptions and isolated loss of vulnerable livestock and crops on Sunday and Monday.
Yellow level 2 warning for strong damaging winds, which may lead to small vessels capsizing, difficulty in the navigation of small vessels and localised disruption of small harbours/ports for a short period of time, is expected along the coast of KwaZulu-Natal from Sunday afternoon into Monday.
Meanwhile, more snow, cold weather, and rain are expected from Sunday until Wednesday.
MORE SNOW AND ICY COLD WEATHER EXPECTED
ALSO READ: LOOK: PICTURES of snowy SA turned into a winter wonderland
'EXTREMELY SUB-POLAR AIR IS EXPECTED WITH THE COLD FRONT'
ALSO READ: WATCH: Tornado leaves a trail of DESTRUCTION in KZN
ALSO READ: WATCH: Snow, icy weather turn parts of SA into winter wonderland
PLEASE SEND US YOUR SNOW PHOTOS AND VIDEOS:
Please WhatsApp your photos and videos to 060 011 0211. Please remember to include your name, surname, and as many details and information as you have. You are, of course, welcome to send anonymous tips and information.
ALSO READ: WEATHER: Brutal cold front sweeps across SA bringing heavy snow
Meanwhile, the South African Weather Service (SAWS) previously advised the public and small stock farmers that loss of vulnerable livestock and crops can be expected in these cold weather conditions.
SMALL-STOCK FARMERS SHOULD PROVIDE SHELTER FOR VULNERABLE LIVESTOCK
"The weak and frail may also be vulnerable since their bodies won't be able to retain their heat as easily."

"Small stock farmers should provide shelter for their vulnerable livestock and cover sensitive crops. Shelter, soup and blankets should be provided to the weak and frail where possible."

SAWS
HERE ARE THE TOP FIVE PLACES IN SA TO GO HUNT FOR SNOW:
Underberg: Snowfalls in the Underberg can occur anywhere from May through to October. The highest recorded snowfall in the area and, therefore, possibly the best time to go in search of snow, is in August. Situated a mere 40kms from Underberg, Sani Pass is a great snow spot to explore, with the first winter snowfall having fallen there in late May this year. Be advised though that you need a 4 x 4 to drive up the pass.
Golden Gate: The winter months in Golden Gate are very cold and temperatures can plummet to between -9 and -15°C. Snow is no stranger to this area.
Midlands: Winter in the Natal Midlands is cool and dry, with occasional snow and frost and average temperatures of 6°C. August 2021 saw the KZN Midlands transformed into a white-blanketed wonderland along with other large parts of SA previously untouched by it.