eThekwini Mayor, Mxolisi Kaunda jumped right into Durban's ocean yesterday, to prove that the waters are now perfectly safe for swimming.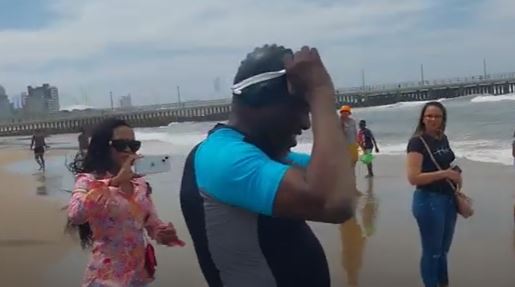 Durban mayor takes a dip
Complete with a pair of swimming goggles and boadshorts, eThekwini mayor, Mxolisi Kaunda headed to Durban's North Beach yesterday, 1 December, to show just how safe sea water conditions now were, after registering sky-high E.coli levels from the continuous sewage crisis.
According to Getaway, Kaunda told the Northglen News that they were pleased with the quality of the water at the beaches.
"We have partnered with a reputable, independent laboratory, Talbot, to constantly test the quality of our water and share the results publicly. This morning, we conducted an assessment from Umhlanga's Main and Bronze beaches and we are pleased the quality of the water has improved." Kaunda said.
Take a look at the swimming mayor below:
The eThekwini mayor also claimed that he would also be prioritising safety this festive season, declaring 'zero tolerance on crime and lawlessness as (their) law enforcement officers will maintain high visibility to save lives and ensure visitors have a safe and joyous festive season.'.
ALSO READ: KZN North Coast: Beautiful beaches you HAVE to visit
Durban beaches are now open
The majority of eThekwini beaches were only recently reopened for public use, after they were effectively shut down since August because of an E.coli scare.
Here is the list of beaches that are open:
Point beach
uShaka beach
Addington beach
North beach
Brighton beach
South beach
Wedge beach
Bay of Plenty beach
Battery beach
Country Club beach
Reunion beach
Pipeline beach
Toti Main beach
Warner beach
Winkelspruit beach
ALSO READ: Here are all of South Africa's Blue Flag beaches
ALSO READ: Five ways to keep cool during a summer heatwave
ALSO READ: WATCH: Here's how to spot and avoid rip currents at the beach