This past weekend, some incredible images and videos were shared by the @SeafariApp on Twitter, showing eight Killer Whales on the move in False Bay near Simon's Town.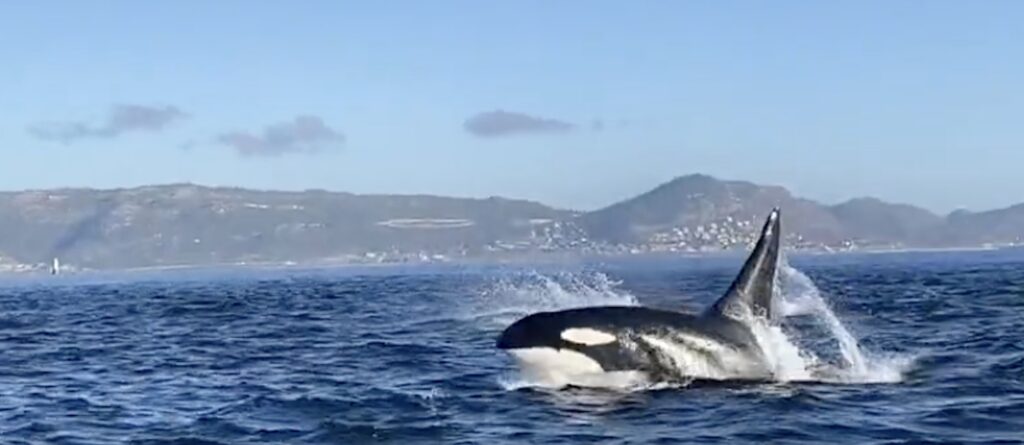 By: Craig Lewis
The incredible footage shows the Killer Whales on the hunt for common dolphins, while other images showed a dolphin being propelled into the air as the attack unfolded.
Check out the images and video footage of the Killer whales below:
ALSO READ: SEE: Southern right whale surfaces off Camps Bay [PICS]
Although Killer Whales – also known as Orcas – are some of the most beautiful animals, they are also apex predators.
"They are sometimes called "wolves of the sea", because they hunt in groups like wolf packs," a description on Wikipedia suggests. "Orcas hunt varied prey including fish, cephalopods, mammals, seabirds, and sea turtles. Different populations or ecotypes may specialize, and some can have a dramatic impact on prey species.
"However, whales in tropical areas appear to have more generalised diets due to lower food productivity. Orcas spend most of their time at shallow depths, but occasionally dive several hundred metres depending on their prey."
They use echolocation to communicate and hunt, making sounds that travel underwater until they encounter objects, then bounce back, revealing their location, size, and shape.
MORE ANIMAL SIGHTING VIDEOS
WATCH | CROWS EATS WARTHOG ALIVE
WATCH | LEOPARD STEALS BABY BIRD FROM NEST
WATCH | HAWK TRIES TO KILL CUCKOO BIRD
WATCH | THE MOST EXCITED BABY RHINO EVER!
WATCH | CHEETAH CHASES IMPALA INTO BMW
WATCH | IMPALA PLAYS WITH LEOPARD
WATCH | DEAD SNAKE CHOKES BIRD
WATCH | BATTLE BETWEEN LION AND ROAN ANTELOPE
WATCH | WILDEBEEST SWIM INTO JAW OF MONSTER CROC
WATCH | 1 CRAB TAKES ON PRIDE OF LIONS
WATCH | GRUMPY ELEPHANT TRIES TO STAB BABY HIPPO
WATCH | HYENAS TRY PULL LION OFF BUFFALO BY ITS TAIL
WATCH | BIRD DESTROYS ITS OWN RESEARCH CAMERA