The United States (US) has only strengthened its standing as South Africa's top source market, especially if June figures are anything to go by.
US continues to top the charts
Recent data showed that the US was South Africa's top source market for international travel in 2021, and with the latest figures for June 2022 now available, it's clear to see that the United States has indeed solidified their top spot.
The latest June figures recorded 28 207 arrivals from the US in June – more than double that of the UK in second place with 12 301 arrivals, says Tourism Update.
According to up-to-date Tourism and Migration Statistics from Stats SA, a total of just over 1.7 million travellers (arrivals, departures and transits), passed through South Africa's ports of entry or exit during the month of June.  
The stats also show that India was South Africa's third-largest international source market for the month, with 5 568 arrivals, closely followed by Germany with 5 385 arrivals.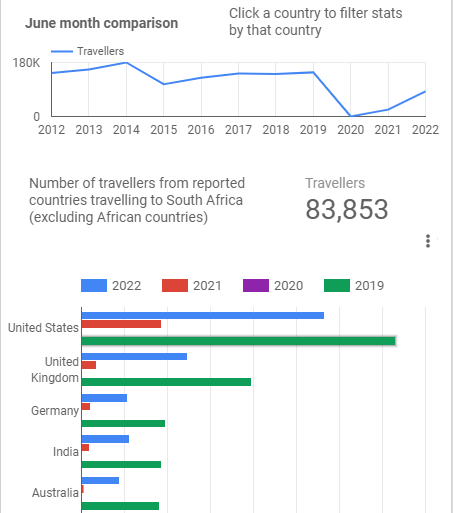 Top source market, top source of tourist revenue
Last year, according to a report from SA Tourism, the US also topped tourist revenue from overseas sources, recording R2.3 billion in spend from this market. The data also showed a 14 percent increase in arrivals when compared to 2020.
Jerry Mpufane, president of South African Tourism North America Hub said that the report indicated that the diligent marketing and promotional efforts for South Africa were definitely paying off.
"South Africa continues to win coveted travel and hospitality accolades, which go a long way in establishing confidence in what we have to offer. When you couple that with increased connectivity provided by our airline partners at United and Delta and the consistent energy and enthusiasm for the destination shown by US travel advisers and tour operators, the future looks bright as we continue our recovery efforts." Mpufane said.
ALSO READ: Stats show tourists are already booking trips to SA for December