A recent review done on the price of domestic airfare in South Africa has turned out some interesting numbers. Take a look…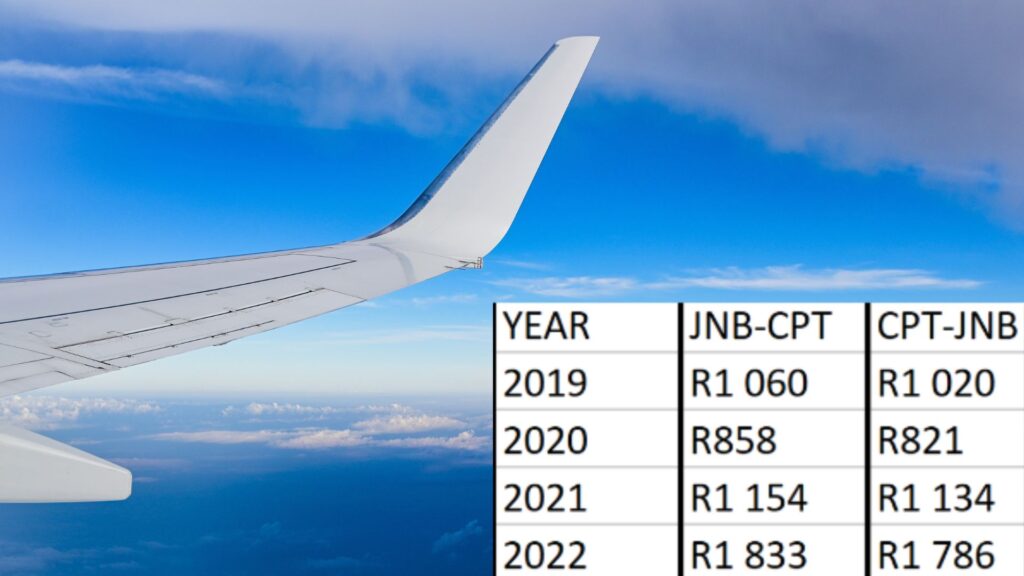 Domestic Airfare: 2019 vs. 2022
A new review of domestic air fares on some of South Africa's most popular domestic routes from July 2019 to July 2022 has shown a whopping increase in numbers, says travel news.
The numbers itself shows an alarming 70% to 111% increase from July 2019 to July 2022, along some of South Africa's most popular routes which include Johannesburg to Cape Town to Johannesburg, and Durban to Cape Town to Durban.
'More competition needed', says travel agents
John Friel, Country Manager at Travelstart South Africa, took part in travel news' online poll for travel agents, and was able to quantify the changes in domestic fare prices, which he felt were a sign of the curtailed supply in the market.  Friel said it was clear that domestic fares on these routes had risen by 70% to 111% by July 2022.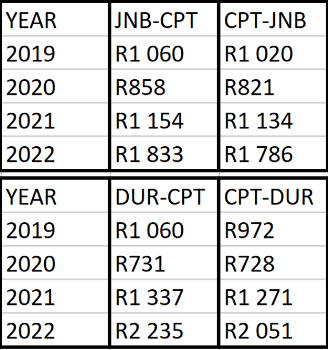 "We can clearly see the impact on airfares of the curtailed supply in the market. JNB-CPT fares have risen by 73% in July 2022 versus July 2019. CPT-DUR is by 75%, DUR-CPT and CPT-DUR both increased by an alarming 111%." Friel told travel news.
"Since the grounding of the two airlines (BA Comair and kulula) we have seen a constant picture of stubbornly high airfares, constrained supply and full flights on many routes for days, even weeks, at a time." he added.
Friel also said that competition would help to set prices right again, claiming that fair competition drives economic activities.
"Domestically, we have four airlines – BA Comair, kulula, Mango and SA Express – all missing from the market; all of which were operating at optimal capacity in 2019. Is there space in this market for a new entrant right now, or additional capacity? Yes, that's for sure! It is important to balance additional capacity with prices that also allow the airlines to compete and be profitable, and to stimulate passenger demand." Friel concluded.
ALSO READ: SAA increases flight capacity for local routes in SA