Now THIS is certainly one for the record book! One Durban woman has set the Guinness World Record for eating the most chicken feet…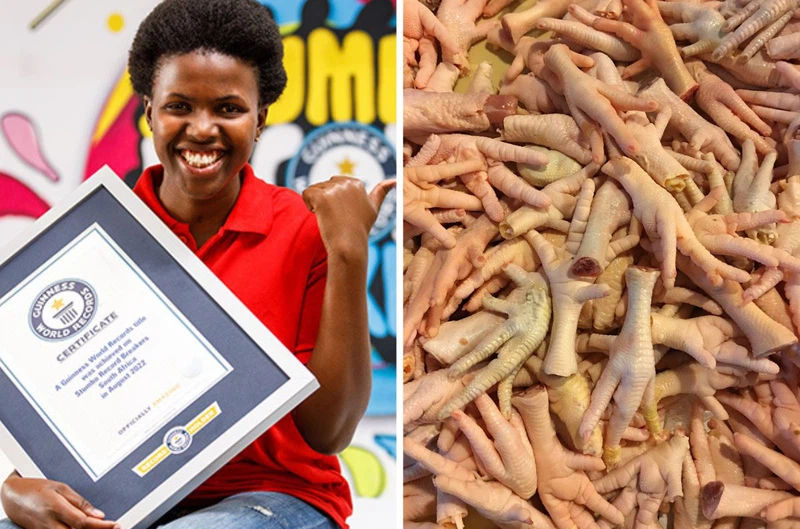 A South African woman has bagged a Guinness world record for eating an astonishing amount of a delicacy loved around the country – chicken feet!
Vuyolwethu Simanile had her name etched in the record-breaking book after eating the most chicken feet in just one minute!
ALSO READ: A two-headed snake is now on display at uShaka in Durban
GUINNESS GRANTS CHICKEN FEET EATER WORLD RECORD TO SA WOMAN
The chicken feet eating competition took place in Umlazi, Durban where five women were tasked with eating as much as they could in one minute.
The women were friends and colleagues with work at a local shisa nyama called Mashamplanes.
But only one woman could emerge victorious, and that woman was Vuyolwethu who ate 121 grams of chicken feet in one minute.
A clip of the challenge was featured on eTV's Stumbo Record Breakers this week. And Vuyolwethu appeared overcome with emotion after landing the Guinness world record.
ALSO READ: An SA love story: Prudence says yes to Comrades proposal
'TOUGH TO BEAT'
But whilst the Guinness Records are filled with weird and wonderful achievements, official adjudicator Sofia Greenacre thinks this one will stick – for now.
Speaking on the show, she said: "It's going to be really exciting to see where this goes if it gets beaten."
She added: "Speed eaters across the world are very competitive and will jump on any new records that appear. But I think this one is going to be tough to beat."