It has been a sweltering summer so far and it isn't just us humans that are feeling the heat! A group of baboons decided to take a dip in a safari lodge pool to cool off recently, and the results were hilariously adorable. Take a look…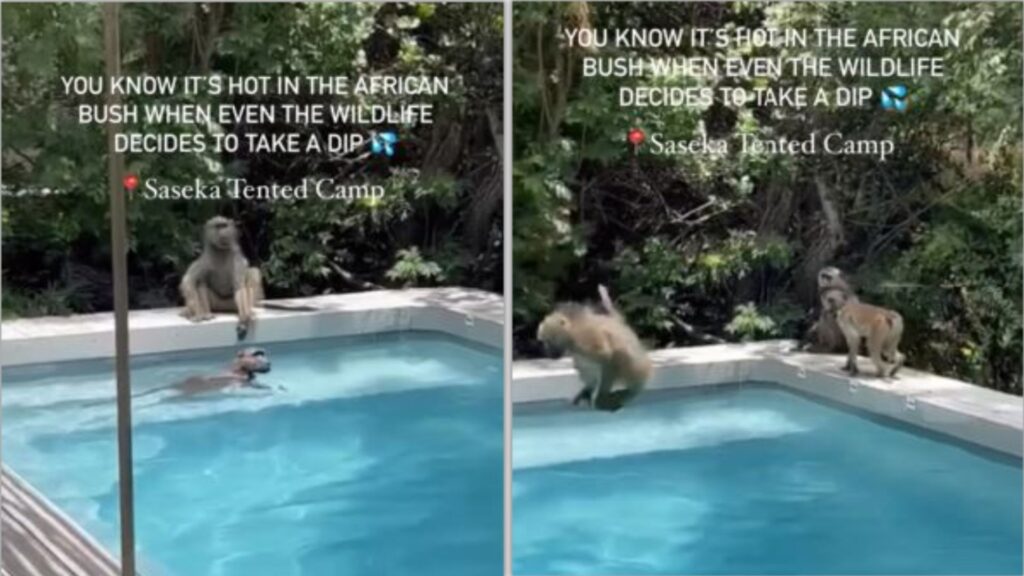 Baboons learn how to 'cannonball'
Just when you thought you'd seen South African baboons do it all, they come along and surprise you!
If you're South African, then you know how notoriously naughty baboons can be, doing the funniest, most unpredictable things. But, we bet you've never seen one do a cannonball into a swimming pool before!
A recent video captured at the Saseka Tented Camp at Thornybush Safari Lodge in the Greater Kruger National Park shows a trio of troublemaking baboons stumble upon a tempting pool in the bush.
In an effort to cool off from the summer heat, the group of baboons then decided that a dip in the water would be just the thing.
The video, captioned 'BOMB DROP 💦😂 It has been really hot in the bush this week, so naturally we have to share our pools with the resident wildlife 🐒 was captured by @kerrinv14mtn and shared on the Thornybush Safari Instagram page.
ALSO SEE: This is Africa: Cheetah struts into Kruger safari lodge [WATCH]
Watch the video and the epic cannonball below:
The video has since had almost 12 000 likes, over 290 comments and a number of shares, with Instagram users absolutely loving the antics of the baboons:
@sah_spence asked a question we'd love to know the answer to as well: "How many times do we think he watched guests dive bomb before he decided it was worth giving it a go 🤔😂"
"They even swim better than me 😢" @lolomolepo45 said.

@mamsie_afrolucious1 pointed put what we're all thinking: "It's the dive for me! Almost like the pool was made with them in mind!😂😂😂😂"