LOOK at these amazing photos of the first sighting of an Albino Bottlenose Dolphin in Africa. Here are the photos.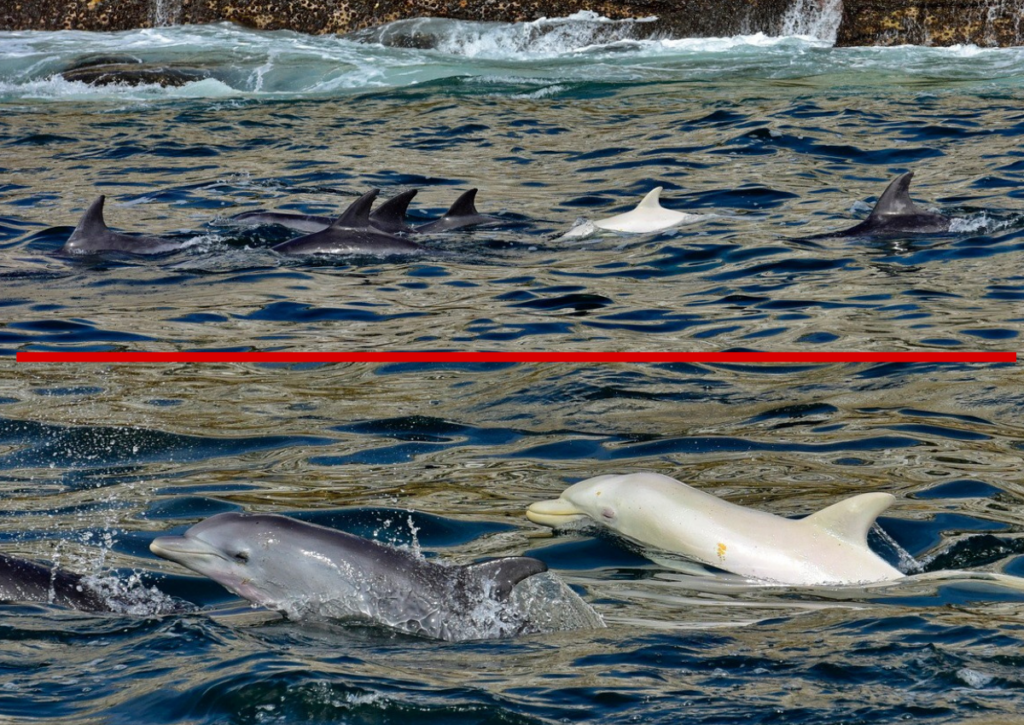 By: Corné van Zyl
Here is the first sighting of an Albino Bottlenose Dolphin in Africa.
LOOK AS THE ALBINO BOTTLENOSE DOLPHIN WAS SPOTTED
Raggy Charters posted amazing photos of this rare sighting in Algoa Bay, in the Eastern Cape.
ALSO READ: Two orcas have killed at least EIGHT Great White Sharks off the coast of SA
According to Raggy Charters owner Lloyd Edwards, the beautiful meter-long albino calf is around a month old.
ALBINO DOLPHIN SIGHTINGS ARE EXTREMELY RARE
"After 31 years of marine cruises in Algoa Bay . . . I thought I had seen it all. What a mistake that turned out to be! It was a very special day as we were celebrating my son Kalahari's wedding, where he tied the knot with his new German bride Antonia.

"The boat was full to the brim with family and friends. I was on the crow's nest when we approached Lover's Lane, the favourite hangout for big schools of Indo-Pacific Bottlenose dolphins.

"All of a sudden, I saw a white flash in the water among a pod of around 200 dolphins. When I saw it again, there it was, a beautiful metre-long ALBINO calf of around a month old."

Raggy Charters owner Lloyd Edwards
ALSO READ: Durban: Snake rescuer saves FOUR black mambas in one day – PICTURES
ALBINOS MAKES AN EASY MEAL FOR PREDATORY SHARKS
Lloyd furthermore explained that as albinos usually stand out from the rest of the school, it makes them an easy meal for predatory sharks.
"This one was always swimming in the middle of the school and was being protected by its mother and the rest of the adults. Unfortunately, they attract also human attention and have led to them being captured for display in aquariums. An example was "Angel" who was caught in the infamous Taiji Bay in Japan, where hunters brutally kill hundreds of dolphins every year. This one was spared and put on display at the Taiji Aquarium."

Lloyd Edwards
Raggy Charters and the World Cetacean Alliance have been fighting for the closure of these marine circuses for many years now.
ALSO READ: LOOK: Did this MASSIVE great white SHARK wash out in Durban?
HERE ARE THE AMAZING PHOTOS:
Albino dolphin sightings are extremely rare.
ALSO READ: LOOK: Four pygmy sperm whales washed out on Dias Beach
The National Oceanic and Atmospheric Administration, in 2021, there have only been three documented sightings of albino dolphins in the Gulf of Mexico.
The most famous is a "pink" dolphin that was first spotted in June 2007 at Calcasieu Lake in Louisiana.
ALSO READ: LOOK: At least 17 sevengill sharks KILLED by pair of killer whales
THERE HAVE ONLY BEEN THREE DOCUMENTED SIGHTINGS IN MEXICO
Raggy Charters furthermore said Algoa Bay had a few examples of partial albinism in the past.
"We have observed leucistic penguins, a white humpback whale, a pink dolphin, and a few white Southern Right calves, but never a true albino."
Here are Albino animals explained:
HERE ARE ALBINO ANIMALS EXPLAINED
Although rare in nature, albino animals have been spotted everywhere, from the skies to the seas.
According to National Geographic, these unique creatures have a partial or complete loss of pigmentation, hence their pale skin tone compared to other members of their species. Even though the birth of an albino animal is considered a sacred or auspicious event in some cultures, research suggests that some albino animals have difficulty in the wild.
ALSO READ: PHOTOS: Incredible photos show whale giving birth to calf in Walker Bay
In mammals, albinism occurs when an individual inherits one or more mutated genes from both parents that interfere with the body's production of melanin, the main pigment that determines skin color, fur, and eyes. The production of melanin occurs within melanocytes, specialized cells that are present but not fully.