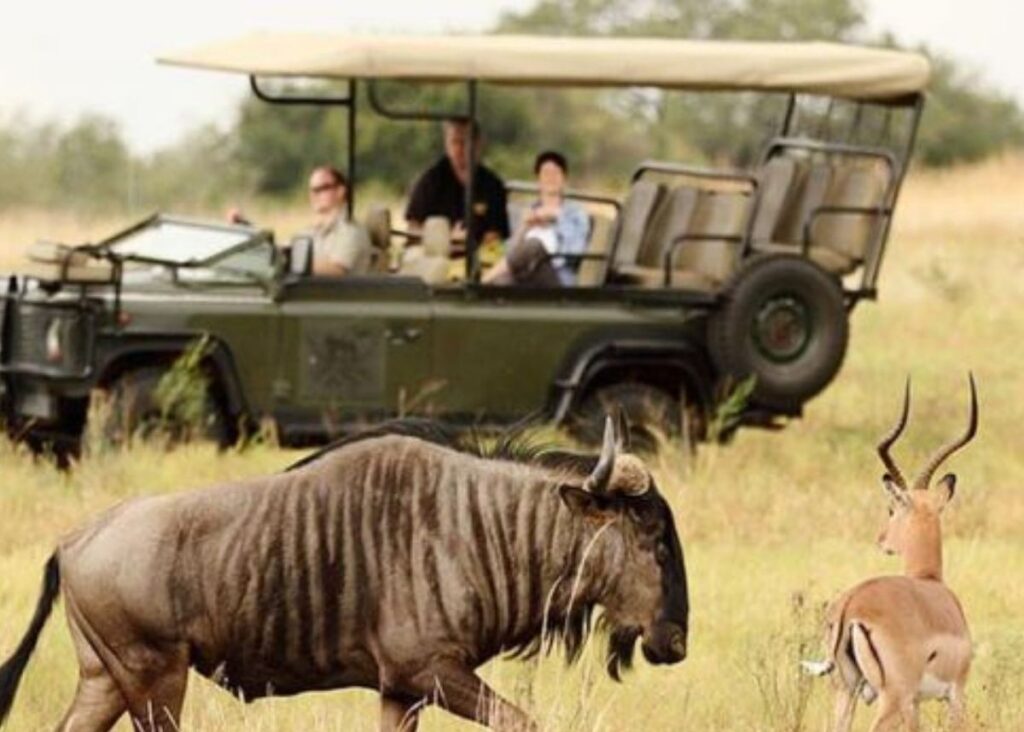 1. Kruger is larger than three US states
The Kruger National Park covers an area of 19 633 square kilometres (7,580 square miles), which is about the size of Israel and larger than the US states of Delaware, Rhode Island and Connecticut.
It spans two provinces – Mpumalanga and Limpopo, and borders two countries – Zimbabwe and Mozambique. If one includes the private game reserves adjacent to Kruger, it is almost the size of Belgium.
The Great Limpopo Transfrontier Park (GLTP) was proclaimed in 2000 and connects to Gonarezhou National Park in Zimbabwe and the Limpopo National Park in Mozambique, now, together with Kruger, part of the Great Limpopo Transfrontier Park. The GLTP is a 35,000 km² peace park and links together some of the best wildlife areas in southern Africa.
2. Kruger holds a vast part of human history 
Some of mankind's earliest ancestors lived in what is now the Kruger National Park. Several archaeological sites throughout the park as well as ancient cultural fragments such as rock art and engravings are evidence of an evolution from crude stone tools to refined, aesthetically considered utensils.
Other sites illustrate African trade routes between Arab and Indian ships docked on the Mozambican coastline while Indian glass beads and Chinese porcelain were found among locally manufactured copper, gold and iron artefacts. An important history of human activity is protected alongside the natural heritage of the Park with San rock paintings and archaeological sites such as Masorini and Thulamela.
The Kruger is also South Africa's oldest wildlife conservancy with a long history dating back to 1898 when statesman Paul Kruger proclaimed the land as 'Government Wildlife Park' to control hunting and protect dwindling animal populations. In 1926 the park was expanded to incorporate adjacent farms and became the Kruger National Park where Kruger park safaris give much joy to visitors. 
3. Several rivers run through Kruger
The Sabie, Olifants, Letaba, and Levuvhu Rivers run from west to east through the park while the Limpopo and Crocodile Rivers form the northern and southern borders of the Park.
4. The park is long and thin with at least's nine entrances
The Kruger National Park is about 360 km (220 miles) long, but only about 90 km across at its widest point. Nine different entrance gates give access to the reserve. They are Numbi gate, Malelane gate, Phabeni gate, Crocodile Bridge gate, Paul Kruger gate, Orpen gate, Phalaborwa gate, Punda Maria gate and Parfuri gate.
5. Anti-poaching became the most important part of managing the park
While committed to all aspects of conservation, the staff and management of Kruger National Park currently face rhino poaching as their biggest challenge ever.
Its anti-poaching unit consists of specially trained game rangers, assisted by the South African Police Services, the South African National Defence Force and the South African Air Force. Kruger is also equipped with its own helicopters for monitoring from the air and a specialist dog unit.
6. The animals are not confined to Kruger alone but can move freely between the park and neighbouring game reserves
Kruger is not only part of the Great Limpopo Transfrontier Park, but fences between Kruger and adjacent private game reserves were taken down a few years ago.
7. The distance between the top and bottom camps is just under 17 hours.
It will take you 16 hours and 55 minutes to drive between Berg-en-Dal and Punda Maria via the shortest route.
8. Kruger offers intimate safari experiences
Several small and rustic bush and satellite camps are scattered throughout the Kruger where one can enjoy an intimate safari experience off the beaten track. They are well equipped with ablutions, kitchens, crockery and cutlery but without shops or restaurants.
9. Forget about the Big Five, what about the Little Five? 
Among the approximately 147 mammal species, 114 reptiles, over 507 bird species and more than 2000 plant species, visitors on Kruger park safaris are awed by the 'big 5' (rhinos, lions, leopards, elephants and cape buffalo) but you will be very lucky to find the little 5 (elephant shrew, buffalo weaver, leopard tortoise, antlion and rhino beetle), the big 5 trees (baobab, fever tree, knob thorn, marula and mopane) or the big 6 birds (kori bustard, martial eagle, lappet-faced vulture, Pel's fishing owl, saddle-billed stork and southern ground hornbill).
10. Sightings boards in every camp help you find the best sightings
If you stop at a camp, make sure you check the board (usually at reception or the restaurants) to see where the most activity has been that day.