Hiking on Table Mountain means that you'll not only be rewarded with a good workout, but an exceptional view (if the weather plays along) and bragging rights too.
With that said, hiking up Table Mountain should not be underestimated. The weather changes quickly and it's a steep climb so make sure you take enough water – at least 2L is recommended.
Top tip: Plan ahead and freeze half your water bottle so that it stays cool while you make your way to the top.
And yes, even if the weather seems fine when you set off, take something to cover up when you get to the top.
Platteklip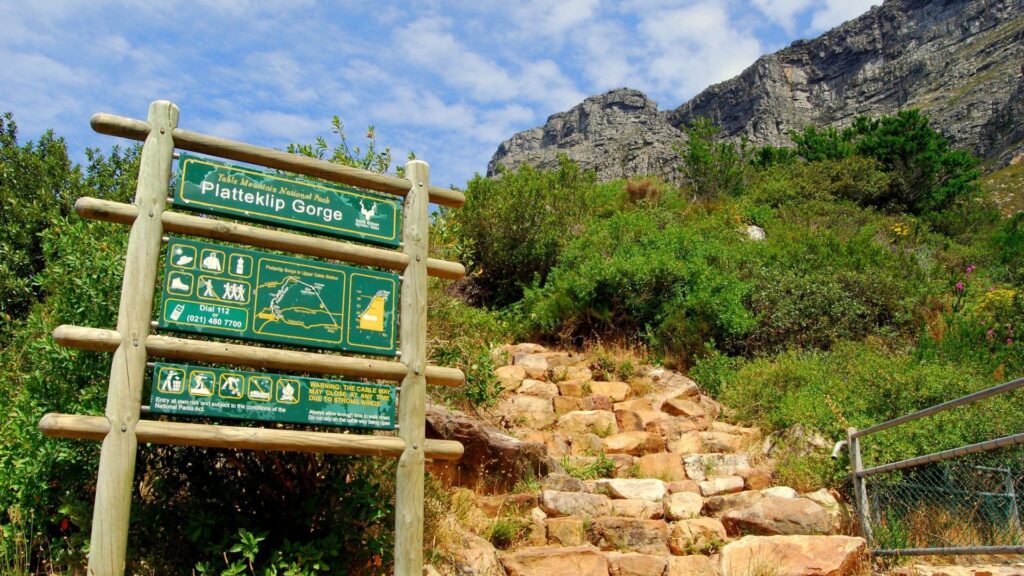 Probably the second most well-known hiking trail in Cape Town (after Lion's Head), Platteklip is not as easygoing, despite its popularity. Sure, there's not much climbing or scrambling involved, but there's a lot of upward walking, which probably makes it the ideal route for a workout. It also provides a direct route to the summit of Table Mountain, for those who think taking the cable car is for lightweights.
Starting point: Tafelberg Road
Endpoint: Upper Cableway Station
Duration: Three hours, though some ridiculously fit people have been known to run up the trail in an hour.
Side note: Platteklip is best avoided on a hot day, as there is little shade along the trail.
Be prepared for all types of weather, bring a hat, sunblock and a jacket. Proper hiking shoes are required and do not attempt this trail with slip-slops. If you plan to take the cable car down, make note of operational times and ensure you reach the station before the last cable car leaves, otherwise you may have to spend the night with a few new furry friends.
Important to note: SANParks says many rescues are performed at the site, as visitors often underestimate the heat and level of fitness required, or they miss the last cable car and end up stranded on the mountain at night.
Child-friendly? Yes, although take note of the above. Dog-friendly? Bringing dogs is not recommended on this trail, as they can struggle in the heat. Contact 021-712-0527, Table.Mountain@sanparks.org
Woodstock Caves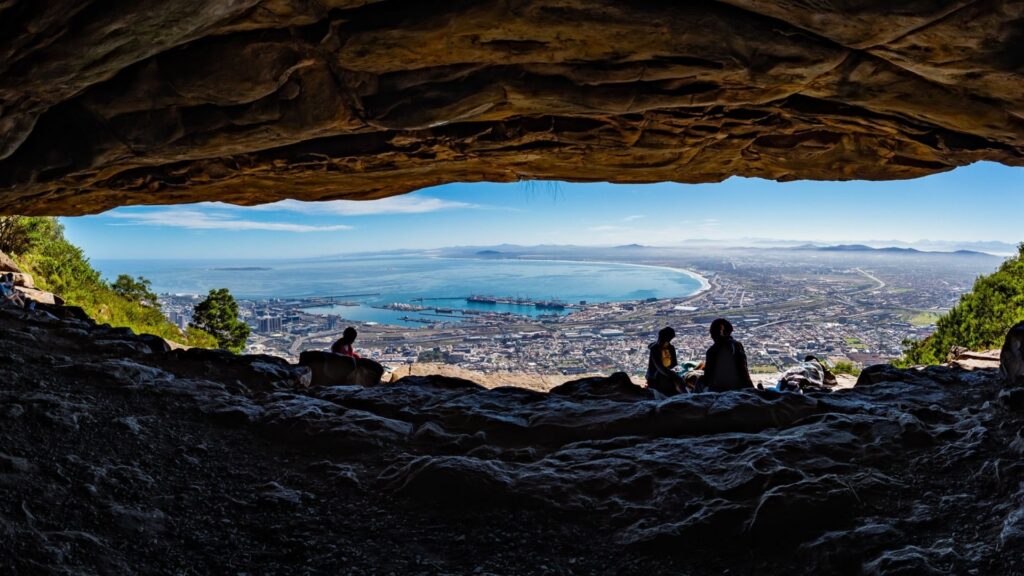 As the name suggests, this hike takes you to a large cave with an epic view of the area of Woodstock and surrounds. It's a relatively easy and family-friendly hike, so be sure to pack a picnic and enjoy the view, shade, and tiny waterfall while you're up there.
You have two starting point options. You can either start via Tafelberg road, which entails driving past the Cableway station and parking at the Woodstock Cave route's start or as close as you can when the road is closed. The second option is starting at Rhodes Memorial and hiking to the King's Blockhouse. Past the Blockhouse, the road forks where you'll take the left fork. At the next fork, take a right towards the Cableway.
Approximate time: 1.5 – 2 hours one way starting from Tafelberg Road and 2 – 3 hours one way starting from Rhodes Memorial.
Lions Head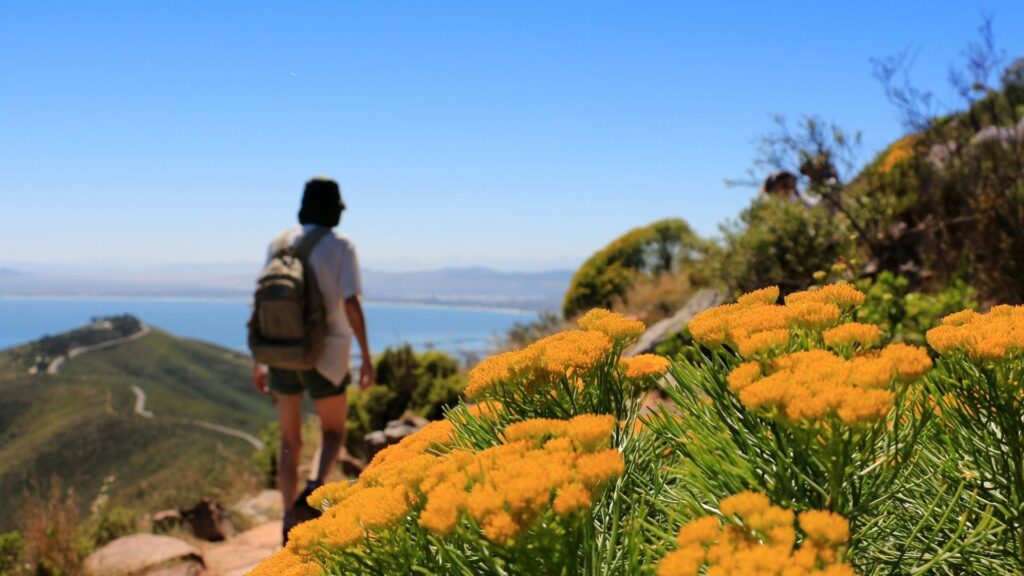 Tackle this exciting and spectacular route to experience the panoramic view of the sunrise over the city of Cape Town. Admire the Atlantic seaboard and watch majestic Table Mountain come to light while seeing the sun appear from above the Hottentots Holland Mountains. Some scrambling along a couple of ladders and some exposure to height, but worth it all when you reach the summit.
Skeleton Gorge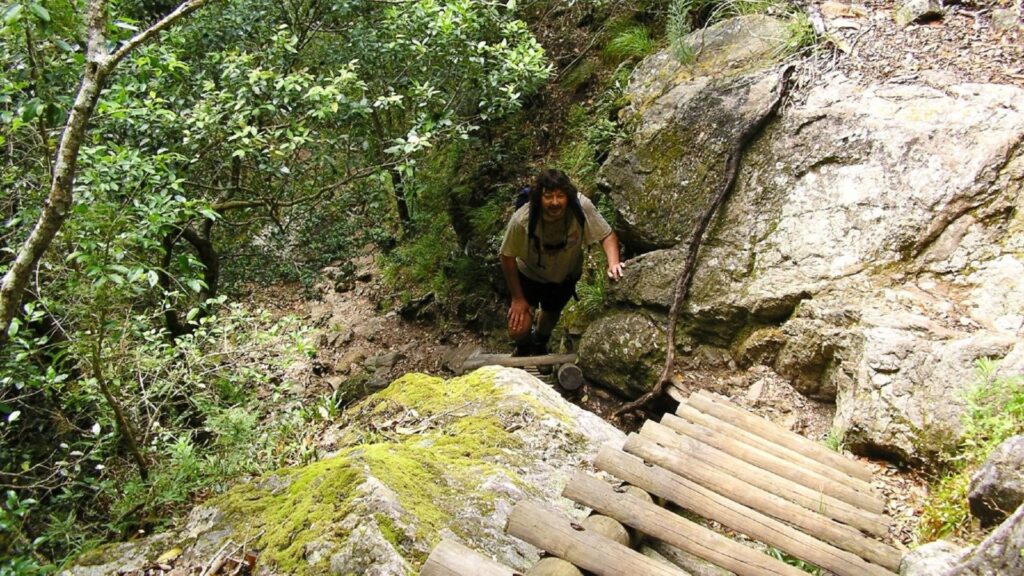 This point-to-point walk across Table Mountain starts from Kirstenbosch Gardens.
An easy stroll through the gardens takes us to the steeper ascent of the gorge. Once in the gorge, we are surrounded by magnificent indigenous forest which provides us with welcome shade. We walk close to the stream to the halfway point where there are a couple of ladders to tackle and a rockfall to scramble over.
Nearing the top, the trees thin out, allowing us views over False Bay and the Constantia Valley, all the way to the Hottentot Holland Mountains. Breakfast rock signals the top of the gorge and from here we hike along the eastern flank of the mountain to Maclear's Beacon – the highest point. Here, there are spectacular views over the entire Table Mountain chain all the way to Cape Point.
See typical mountain fynbos, some interesting rock formations and maybe a sunbird or even a sugarbird. At the beacon, Table Bay, Robben Island and Devil's Peak take us by surprise as we realise we have crossed the mountain. Here, we take a well-earned break before walking across the Central Table with the City of Cape Town, Lion's Head and Signal Hill soon coming into view. An hour from the beacon, we arrive at the cableway station with plenty of time to visit the various viewing platforms and look for a dassie. Then we make our way down in the revolving car to Tafelberg Road.
Maclear's Beacon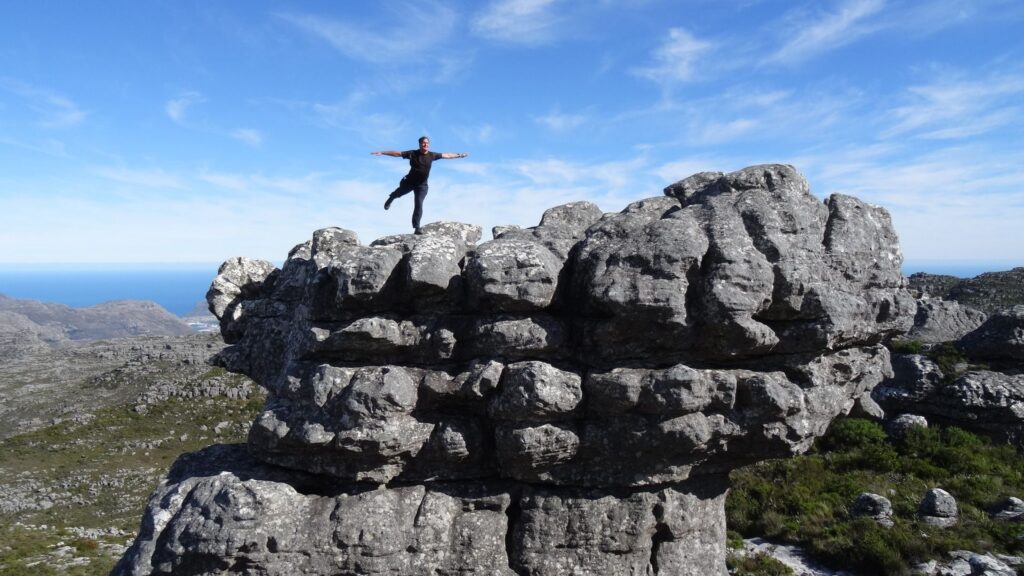 At 21 metres above the Upper Cableway Station, Maclear's Beacon is the highest point on Table Mountain. Plaques at the Upper Cableway Station point you towards the beginning of the hike and from there on, the trail is marked by yellow footprints. If you do the Platteklip and Maclear's Beacon trails in one go, you can truly say you hiked from the bottom of Table Mountain to the very top.
For those not wanting to exert themselves and explore the quieter parts of Table Mountain without the effort, this is a good option. Ascend by cableway and hike to Maclears Beacon – the highest point – with its incredible panoramic views. Admire the unusual landscape and look down on the lower back table with its five reservoirs stretching all the way to Cape Point.
The return route is closer to the edge with views over the city, Robben Island and Table Bay. Marvel at the intricate rock formations and, with luck, see a Rock Kestrel hovering overhead. Spend some time at the various viewpoints before descending by cableway.
Starting point: Upper Cableway Station
End point: Maclear's Beacon
Duration: 1 hour
Need to know: SANParks does not recommend attempting this hiking trail in cloudy or misty weather, as it becomes more difficult to find your way in such conditions. Child-friendly? Yes. Dog-friendly? No.
Constantia Nek to Kirstenbosch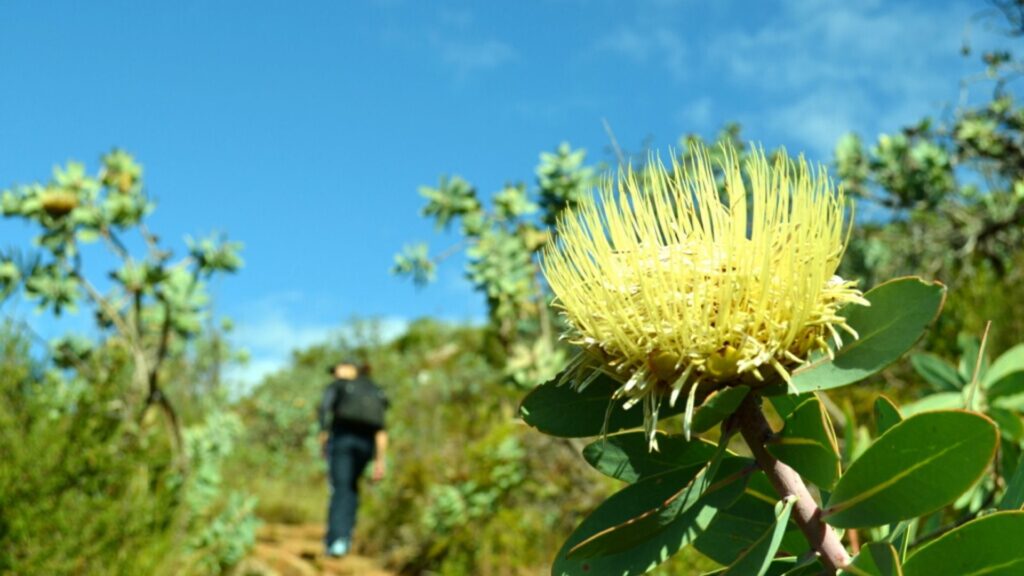 A relatively easy walk on a dirt road and wooden track, this trail consists of mild uphill sections but is mostly downhill and flat. Along the way, you will enjoy the greenery of Cecilia and Newlands forests and vast views of the slopes of Table Mountain, an aerial perspective of Kirstenbosch and views as far as the Cape Flats.
Starting point: Constantia Nek
End point: Kirstenbosch Gardens
Duration: 2 hours
Need to know: Guided walks can be booked in advance and arranged to suit your interests and needs. Child-friendly? Yes. Dog-friendly? Dogs are, unfortunately, not allowed in Kirstenbosch Gardens Contact 021-712-0527, Table.Mountain@sanparks.org (Table Mountain National Park) 021-799-8899, Kirstenboschinfo@sanbi.org.za (Kirstenbosch)
Hoerikwaggo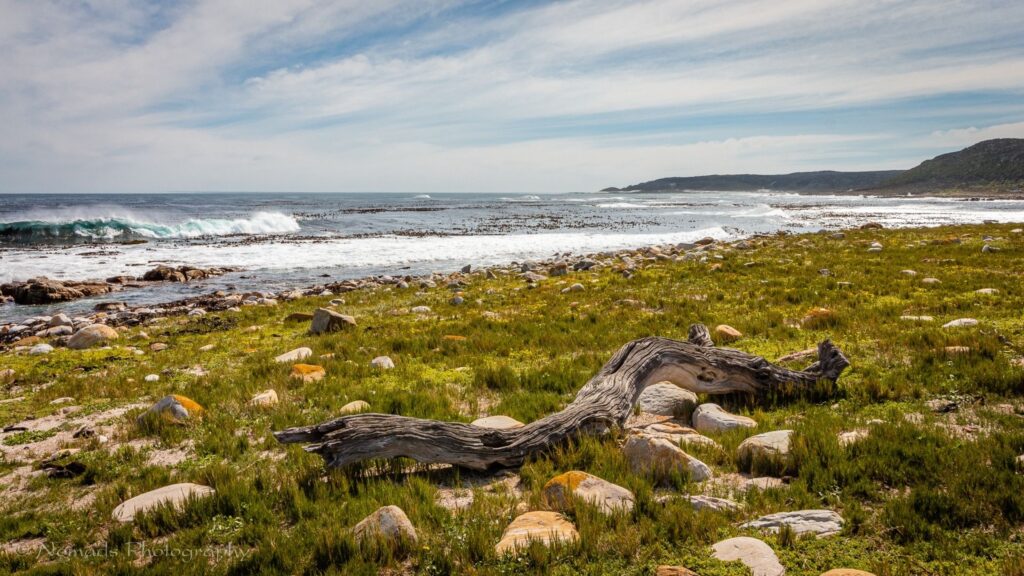 Hoerikwaggo is the Khoi-San word for "mountain in the sea", an appropriate description for a hiking trail that takes you along cliffs that rise high above the shoreline and allows hikers to perch upon the precipice and gaze out at the vast ocean.
Cape Town's unique location – between mountain and sea – gives rise to some of the most diverse and spectacular landscapes, which are on show, as hikers make their way along sandy beaches, up mountainsides and through flourishing fynbos fields.
Please note: Parts of the hiking trail have been closed due to fire damage. The "official trail" takes five days to complete, but if you'd prefer a shorter version, you can elect to hike only certain portions of the trail.
Starting point: Cape Point Lighthouse
End point: Platteklip Gorge
Overnight accommodation hikers will spend each night at tented camps, equipped with self-catering facilities and heated showers, located at key points along the trail These include Smitswinkel Tented Camp, Slangkop Tented Camp and Orangekloof Tented Camp.
Silvermine Tented Camp is currently closed due to fire damage, although accommodation can be arranged at the nearby Noordhoek Village if you wish to hike that portion of the trail.
Each camp can accommodate a maximum of 12 people, including the guide. The trail is free, but you will need to book the overnight accommodation, which is subject to availability. Rates are available on SANParks' website.
Accessing the portion of the trail that lies within the Cape Point Nature Reserve requires a conservation fee (R145 for adults; R75 for children under 12). Contact 021-712-0527, tablem@sanparks.org (Table Mountain National Park) 021-712-7471, deonese.visser@sanparks.org (Hoerikwaggo Trail).
You may have noticed that a certain, well-known hiking trail is missing – The India Venster hike. Well, we decided not to include it due to its reputation; it is a challenging trail that has even seen some fatalities in the past. Recommended for experienced hikers only.
ALSO READ: Activities in and around Cape Town.